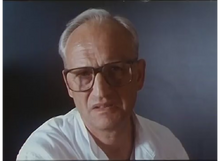 Aarre Karén (born November 29, 1932) is a Finnish actor who has appeared in theater, films, and television series. Karen starred in his first major film role in Kujanjocks, directed by Maunu Kurkvaara. Karen's film career spans 45 years, during which time he has appeared in many roles of Spede Pasanen's Uuno Turhapuro films. Karen was seen in 2006 in the film Lights of the City, directed by Aki Kaurismaki.
Karen's parents were long-term missionaries of the Finnish Lutheran Gospel Association in Japan. According to Helsingin Sanomat, Karen has at least two brothers, Lauri Karen and Count Aulius Karen (1931-2013) and a sister Mirjam Ramberg (nee Karen, 1925-2013). Karen's granddaughter is actress Linnea Skog.
For the Finnish version of The Raccoons, he voiced Bert Raccoon.
Community content is available under
CC-BY-SA
unless otherwise noted.