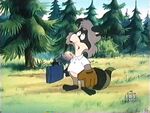 Bentley Raccoon is Ralph and Melissa Raccoon's 8-year old nephew.
Personality
Edit
His parents are George Raccoon and Nicole Raccoon, and his older sister is Lisa Raccoon.
Bentley is an expert with computers, and is a very typical young kid, with all the personality traits and faults to match.
He attends the 7th grade at Evergreen Elementary (previously City Collegiate) despite his young age. So it is possible that he may have skipped a few grades. He may also be a child prodigy.
Appearances
Edit
Relationships
Edit
Lisa Raccoon- Older Sister
Edit
Bert Raccoon - friend/big brother figure
Edit
Ralph Raccoon- Uncle
Edit
Melissa Raccoon- Aunt
Edit
George Raccoon- Father
Edit
Nicole Raccoon- Mother
Edit
Cyril Sneer - Temporary Employer
Edit
Broo - Trial pet
Edit