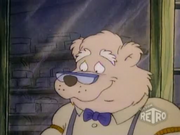 Mr. Willow runs Willow's General Store.
Personality
[
]
Mr. Willow is polite and friendly to his customers, but he has no tolerance for others' misdeeds, including fighting in his store, shoplifting, and voter fraud.
Clothing
[
]
Mr. Willow wears blue glasses, a white dress shirt, a blue bow tie, orange sleeve garters, gray suspenders, brown pants, and black dress shoes. In a flashback in The One That Got Away!, his younger self wears a similar outfit, the differences being the lack of glasses, bow tie, and sleeve garters, red suspenders, and a boater hat.
Species
[
]
It's not officially known what kind of animal he is supposed to resemble, however he looks quite like a bear. However, he doesn't resemble any of Cyril Sneer's bears. He has white fur, so that could possibly mean he might be a polar bear.
He may be also older than Cyril. As seen in a flashback when a 10 year old Cyril is seen fishing at the secret fishing hole and a younger Mr. Willow (probably in the late teens-early 20s) is seen rowing a boat with a woman (possibly his wife).
Appearances
[
]
Voices
[
]
Trivia
[
]
In the Canadian-French version of the cartoon, Mr. Willow's name is M. Dubois.
Gallery
[
]